Elena Muller, MPH
---
This blog discusses how telehealth can help individuals with obesity track their activity, engage in education, monitor their vitals, and communicate with their clinicians.
Over the last two decades, the prevalence of obesity in the United States increased from 30.5% to 42.4%. The prevalence of severe obesity climbed to 9.2% from 4.7% in the same time frame. Scientists predict that this number will only continue to rise as more Americans live a sedentary lifestyle and consume unhealthy foods. People are eating higher-calorie, higher fat, highly processed foods, and are less physically active than ever before. By 2030, researchers predict that 50% of the US population will be obese.
Obesity is often associated with poorer mental health outcomes and a reduced quality of life, as well as conditions such as heart disease, type 2 diabetes, and certain types of cancer. It can influence hypertension, hyperthyroidism, and other conditions as well. Simply, obesity can exacerbate existing conditions, while directly causing others. According to Dr. Kenneth Thorpe, chairman for the Partnership to Fight Chronic Disease and professor of health policy and management at Emory University, obesity is the "leading cause of preventable mortality because obesity leads to diabetes, cardiovascular disease, stroke, and other diseases."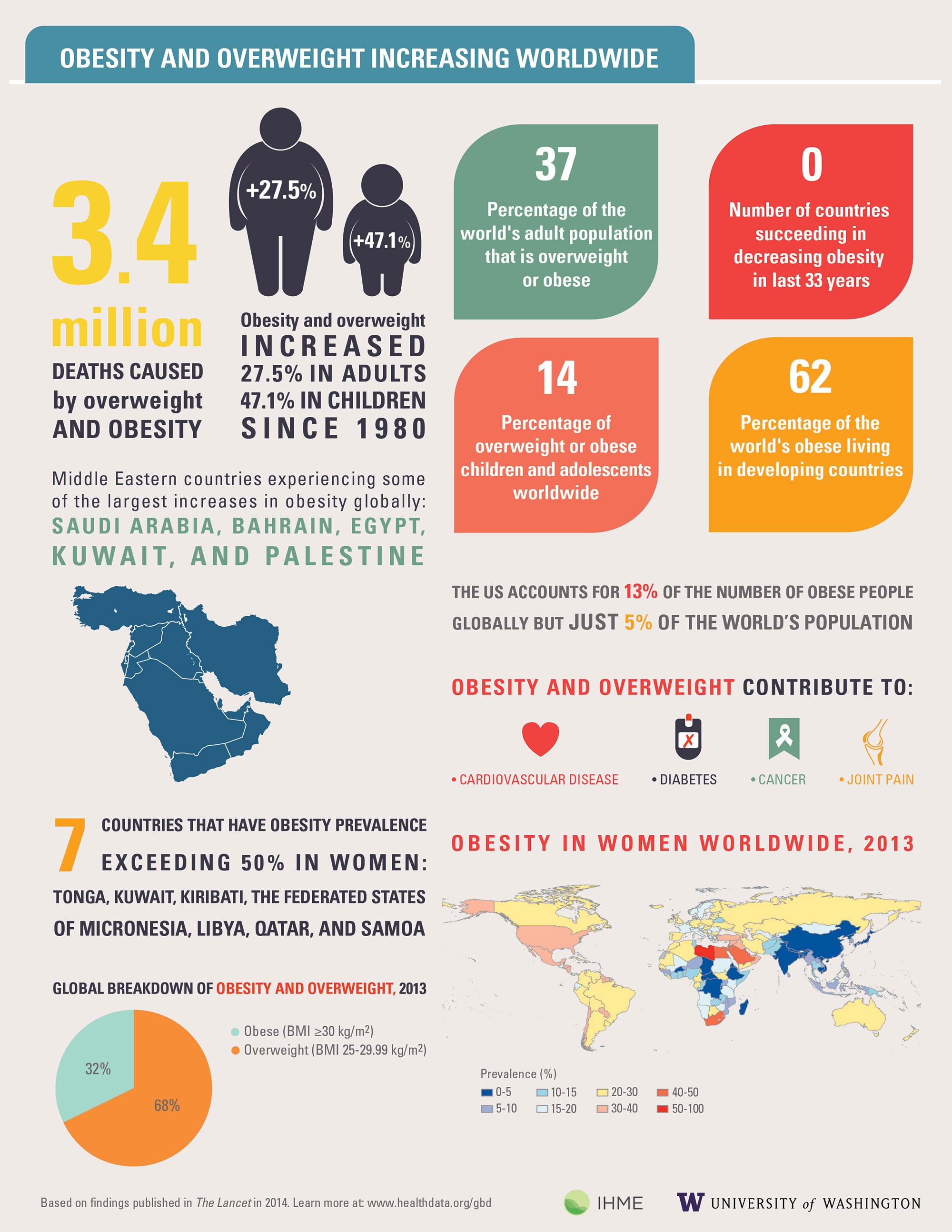 Click Image to Enlarge
Source: Institute for Health Metrics and Evaluation (IHME)
Telehealth's Role in Facilitating Behavior Change
During the last year, more patients than ever before have turned to telehealth to receive care. Some are using it to manage their chronic conditions, or avoid the emergency department by enrolling in a hospital to home program, while others are using it for annual primary care visits or therapy appointments.
Across patient populations, the benefits of telehealth has been shown. We know that telehealth can help patients safely monitor their condition at home. It can help them understand their condition through education, record their symptoms, improve medication adherence, and communicate with their providers in real time. Telehealth can even incorporate the caregiver into the patient's daily plan.
For obese and overweight individuals, telehealth tools can be extremely beneficial. Why? Because telehealth helps change behavior, and behavior change is the necessary catalyst for weight loss and healthier living.
With telehealth, providers can offer nutrition coaching and education, symptom surveys (to monitor addictive behaviors, for example) activity tracking (through FitBit and other wearable device integrations), and remote patient monitoring of weight and blood pressure (and other vitals as well). It can enable more continuous care, providing a resource for on-demand treatment and counseling. With telehealth, obese individuals can access a combination of both behavioral care and clinical care—two areas essential for obesity treatment.
Weight Loss Coaching with Telehealth
A 2018 study, assessed a 12-week telehealth-based weight loss program that integrated health coaching via video conferencing. A bluetooth scale was used by participants as well to track weight loss and gain during the 12 weeks. Of the 13 participants in the intervention group, clinically significant weight loss was achieved in 9 out of the 13 participants. In the control group, 1 participant achieved clinically significant weight loss (out of 12). The difference between the control and intervention group was the weight loss coaching platform—the control group had real-time access to a health coach who could review real-time data from the mhealth devices and assist or encourage as necessary.
This study supports the idea that telehealth can help with weight loss. Video conferencing, education, and weight tracking enables the obese individual to understand their behaviors to make necessary changes in their day-to-day life.
Wearables, Text Messaging, and Health Coaching
A study published this month explored the efficacy of a 16-week telehealth intervention on weight loss. The 30 patients were enrolled in a program which consisted of activity tracking through wearable devices, automated text messaging, and trained health coaching. All participants were patients at an academic medical center's primary care clinic. Results of the study showed 22 of the 30 participants recorded significant weight loss and an increase in physical activity. These findings suggest that telehealth tools are beneficial in promoting weight loss and physical activity amongst obese individuals.
Telehealth Monitoring and Type 2 Diabetes
It's essential to note that obesity is one of the root causes of type 2 diabetes, one of the most prevalent chronic diseases in the US. Many providers across the country have launched diabetes prevention programs to help patients manage their weight to avoid vulnerability to type 2 diabetes.
In an upcoming blog, we'll discuss telehealth and type 2 diabetes further. We'll explore how organizations are incorporating telehealth in diabetes prevention, as well as how organizations are using telehealth to monitor patients who have already developed type 2 diabetes. 
This article was taken from our partner in telehealth services – Health Recovery Solutions. If you would like more information, check out https://www.healthrecoverysolutions.com/blog/the-epidemic-of-obesity-and-how-research-is-showing-telehealth-can-help