Tara Fragiacomo
---
With technology in the passenger's seat and the COVID-19 pandemic taking the wheel, remote patient monitoring has become a household term among healthcare providers and their patients. Often used during the recovery period, remote patient monitoring, or RPM, allows patients to measure their vital signs, blood pressure, weight, temperature, and more without visiting a doctor or hospital. Data is sent via Bluetooth to healthcare providers who then can determine the recovery progress and if further intervention is needed.
How HRS Can Help
HRS's mission is simple: reduce hospital readmission rates, decrease costs, change patient behavior. How can this be accomplished? By bringing Telehealth to a patient's door. Or couch.
Offering both RPM and other Telehealth tools, HRS provides data, education, support, and all necessary equipment to make the transition to technology easier. With Bluetooth enabled technology all data taken by the patient is recorded and sent to a portal where the patient's provider(s) can analyze the patients' symptoms and determine if a different treatment is needed. Without going to the office or hospital, providers can adjust patient medications, direct on diet and exercise, and offer advice to prevent symptoms from worsening and the patient having to be readmitted to the hospital.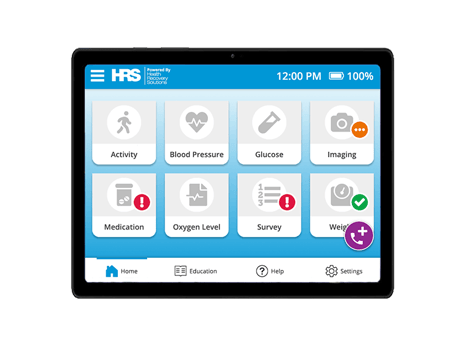 HRS provides the patient with an easy-to-use tablet that includes tools for medication tracking, vital sign monitoring, education, communication, and more.
What can an RPM program offer providers and patients?
There are several benefits of RPM for both healthcare providers and patients. Benefits range from cost savings, avoided ED visits, patient satisfaction, stress reduction, peace of mind and beyond. Here are just some ways RPM programs are beneficial:
Easy-to-use equipment is provided by HRS to the healthcare provider and then distributed accordingly to patients. Kits can include a tablet, as well as a Bluetooth pulseox, scale, BP cuff, glucometer, and/or thermometer.
Programs benefit patients from those recovering from surgery, to continuing care and hospice patients, to those with chronic conditions like diabetes, heart disease, and COPD.
What's tracked and analyzed: vital signs, blood pressure, weight, and temperature. In cases of more severe chronic conditions, levels monitored can include blood glucose, oxygen levels, heart rate, and more.
Because patients don't have to leave their homes, chances of contracting or spreading illness is decreased significantly.
Readmission to the hospital is less likely to occur when symptoms are monitored, and the clinician can intervene accordingly.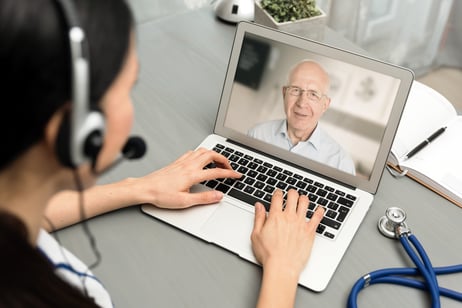 How are RPM programs helping those with chronic conditions?
RPM programs are not just for patients with temporary hospital stays. In fact, it's widely used among those with chronic diseases, in hospice palliative care, and beyond. Patients with diabetes, heart disease, and COPD can largely benefit from RPM programs by getting a more focused level of care. Major factors and benefits of using RPM programs with chronic disease management is reduction in costs, decreases in hospitalizations, and catching spikes or dips before they begin to affect quality of life. Patients can feel more at ease and confident in their daily medical plans when they receive a personalized management plan.
Diabetes & Telehealth: The Florida Initiative in Telehealth and Education (FITE) Diabetes Project

In a Telehealth study that spanned two years, FITE saw a decrease of nearly 10% in hospitalizations among children with type 1 diabetes. Emergency department visits decreased 5.5% per year.
With blood glucose testing readily available in the patients' homes, the guess work of how real-time data looks is removed. Patients can take their levels immediately upon waking, after a meal, or after exercise. When this data is sent live to their provider, it makes for a more accurate daily monitoring plan by catching spikes, dips, and other vitals important to staying within range and avoiding symptom exacerbation.
Reimagining Cardiac Care

Similarly, those with cardiac conditions such as heart disease can utilize RPM to measure heart rate, respiratory rate, and blood pressure. It can be used for pre- and post-op monitoring as well as patient adherence to new routines, diets or medication. Cardiovascular Disease RPM programs have been known to help detect and prevent arrhythmia, hypertension and heart failure; all resulting in a quick action by physicians to prevent further damage.
Breathing Easier with COPD RPM

A factor considered in using RPM programs for patients with COPD is reducing the cost for the patient. Unscheduled office visits and readmissions to hospitals are a driving cost that RPM programs can help reduce or avoid altogether. Using programs and kits like HRS provides, patients can measure their oxygen levels and ensure it is falling in a safe range. Not only will this reduce costs and increase quality of life, but it can also reduce unexpected health scares and exacerbations.
Reductions in cost and hospital readmissions, and a decline in repeating episodes of illness, are major benefits of using RPM. In today's pandemic and certainly post-pandemic, patients might grow more wary about going in for a physical office visit. RPM programs give patients the peace of mind of having a healthcare professional check vital signs and ensure a proper recovery or treatment plan is being carried out effectively. For those with compromised immune systems, this can all be done in the comfort of their own home without risking the spread, or contraction, of illness.
This article is part of a collection from Health Recovery Solutions. Elite is proud to partner with HRS to support patients in our community. For more information, check out https://www.healthrecoverysolutions.com/blog/what-is-remote-patient-monitoring